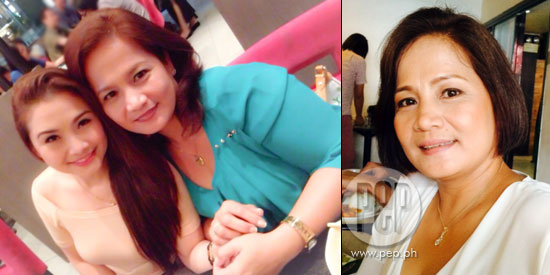 Regis and Madrigal. Photo Courtesy of PEP.
Singer Sheryn Regis allegedly has an affair with another woman. Emy Madrigal, a businesswoman who is currently based in US divulge the news to a local entertainment website PEP. Madrigal narrated that she and Regis met through the "nephew/niece" of Madrigal.
Madrigal said that it was Regis who eagerly courted her in 2005. Madrigal also said that it was her first time to be courted by a lesbian and she was shocked to know when Regis told her that she was a lesbian. Madrigal cant believed knowing that Regis has a husband and a baby. Their mutual relationship lasted for 5 years and they became "officially on" in 2011.
Madrigal said that their relationship is like a "boyfriend-girlfriend" relationship wherein they do what lovers usually did when they met even on Skype only. She also said that she learned to love Regis because she acted like a man in the relationship. She also added that Regis is very aggressive and sweet yet easily gets jealous. This makes her love Regis even more. She gives Regis whatever she needs since Regis has no permanent work in the US. When asked what those things are, she just said that she doesn't need to enumerate. Anything that Regis needs as long as she can afford it, she give it without hesitation.
Problems occur when Regis didn't communicate with her. At first it was just days, then weeks, and months. The longest that they didn't talk is 6 months. That is the time that Madrigal suspected that Regis might have another woman. Her suspicion is indeed true. She learned that Regis is living with the other woman and their relationship started back in 2007. Madrigal said she got mad when she learned about the other relationship of Sheryn. She also said that she was able to meet the other woman and confirmed to her that Sheryn's family lives in her house.
Thus, when she learned that Regis is in the Philippines she immediately went home to confront Regis. She said they got a good confrontationa true to herself just like Aiza and Charice, who are both happy now. Complete Story at
PEPs portal by Ruel Mendoza
.